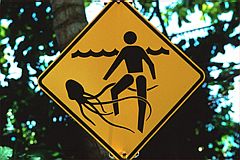 After working in an internet cafe in Airlie Beach for 6 weeks I have managed to save a grand total of $60.
I wasn't out every night. I was eating 40 cent packets of noodles for dinner and I even scored a couple of free nights accommodation for handing out leaflets. Where the hell did all my money go?
As I only had 6 days left on my bus pass I decided to skip my planned trip to Magnetic Island and scoot on up the coast to Mission Beach instead.
3 days of doing nothing in Mission Beach was a hell of a lot more enjoyable than 3 days of doing nothing Airlie. The beach there is fantastic with a much more relaxed and friendly nightlife to enjoy once the sun goes down. The only down side is that it's box jellyfish and stinger season so there's no swimming in the sea.
The staff at my hostel were all into
poi spinning
and fire twirling in a big way. So I spent my afternoons by the pool hitting myself in the head with tennis balls attached to lengths of chain (A.K.A free poi spinning lessons).
In the evenings the show offs among the staff put on a fantastic display of fire twirling before we all got bused down to a local bar for a spot of boot scootin' line dancing and a pool comp.
I was extreemly chuffed with myself to have made it through to the 2nd round of the pool comp, until the ref pointed out that I had actually lost the first round game because the white ball followed the black one down the hole. Fucking technicalities.